Invest in your Oral Care with Smile Health Dental Plans
 Disclaimer:  This is a sponsored post. All opinions presented are 100% my own.
"Keep smiling, because life is a beautiful thing and there's so much to smile about."

Marilyn Monroe
Life is a journey filled with many ups and downs.  One thing is for certain though, the simple act of smiling is life changing! Even when it seems as if a gray cloud is following your every move, a smile from a friend or stranger can make you stop and possibly even smile back. As a teacher, I see this happen every single day as I stand in my doorway each morning to greet my students.  No matter how my day might have begun and trust me there are some mornings where everything just seems to go wrong, the choice I make to smile and greet my students instantly changes my outlook on the day.   That simple act of smiling transforms not just my day but the day of my students.
Just as my own day can get started off on the wrong foot, so can my students.  There have been many mornings where my smile at the door has been the first positive thing they have experienced for the day.  When I am there to greet them with a smile, they know they are valued and what generally follows is a smile from the child.  They leave their worries at the door and enter a room filled with positivity and smiles.  A place where they know they will be lifted up!
"Sometimes your joy is the source of your smile, but sometimes your smile can be the source of your joy."

Thich Nhat Hanh
So if a smile has the power to change your world and the world of those around you, wouldn't it make sense to take care of it. It's not only what we put in our mouth that matters but how we take care of it, that leads to a healthy heart, mind, and body. Good oral health can limit your exposure to heart disease, stroke, and memory loss. This is why it's so important to start taking care of your oral health early, a healthy mouth equals a healthy you!
Smile Health Dental Plans
The people at Smile Health Dental Plans know this and they have come up with one of the most simple and affordable dental plans on the market today!  Smile Health Dental Plans are an affordable alternative to traditional dental insurance. Members pay an annual fee to receive discounts all year long. And with Smile Health Dental Plans there are no hidden costs, just savings of 20% or more on many preventative, restorative and cosmetic dental treatments. You get immediate benefits, no health restrictions, no waiting periods, no claims, no maximums, and more!
Your Smile Health = Your Body Health
Smile Health Dental Plans has created this nice infographic featuring 8 tips to save your smile and your life.  Just click on the infographic to download your copy.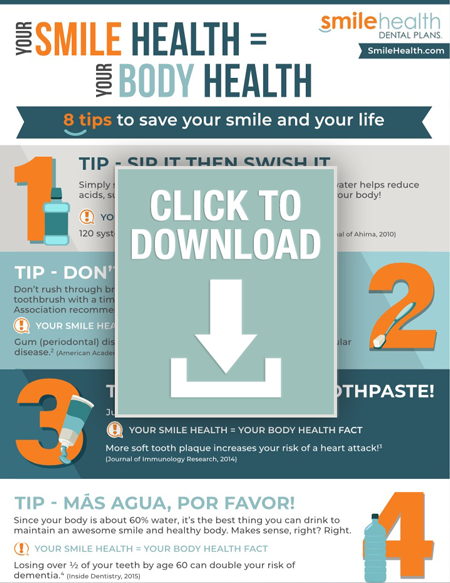 "Your Smile Health = Your Body Health" Care Kit  Giveaway
To help our readers take care of their oral health, we have got a great care kit to giveaway thanks to Smile Health Dental Plans!  The "Your Smile Health = Your Body Health" Care Kit  includes:
1 – Oral B Vitality Electric Toothbrush
1 – Crest Pro-Health Toothpaste Travel Size
1 – Oral B Glide Floss
1 – Crest Pro-Health Multi-Protection Oral Rinse
1 – Smile Health = Body Health PDF pamphlet
Each household is only eligible to win "Your Smile Health = Your Body Health" Care Kit via blog reviews and giveaways. Only one entrant per mailing address per giveaway. If you have won the same prize on another blog, you will not be eligible to win it again. The winner is subject to eligibility verification.
Giveaway is open to the US and ends June 3.
Remember when you smile,
the world smiles back!
Please follow and like us: