Hotel Transylvania 3 – Spooktacular Family Movie Night
The Drac Pack is back with HOTEL TRANSYLVANIA 3 on Digital HD now and on Blu-ray™ Combo Pack and DVD on October 9.  Just in time for a spooky, fun, family movie night right before Halloween! 
This must-own family comedy, which has grossed more than $425 million in theaters worldwide to date, follows in the tradition of the blockbuster Hotel Transylvania franchise when Mavis surprises Dracula with a family voyage on a luxury, haunted monster cruise ship. Of course, the rest of the Drac Pack has to tag along, and that's when things get a little…batty. The monsters are having a great time, indulging in all of the shipboard fun the cruise has to offer, from monster volleyball to colossus-sized buffets and exotic excursions, but then the unexpected happens when Drac falls for the ship's mysterious (and dangerous) human captain Ericka. The third film in this family-friendly monster franchise is the best-reviewed installment and you're invited along on the haunted cruise vacation!
The all-star voice cast is back, along with some new faces as well including Adam Sandler (Grown-Ups), Andy Samberg (TV's "Brooklyn Nine-Nine"), Selena Gomez (Spring Breakers), Kevin James (Paul Blart: Mall Cop 2), David Spade (TV's "Rules of Engagement"), Steve Buscemi (TV's "Boardwalk Empire"), Keegan Michael Key (TV's "Key and Peele"), Molly Shannon (TV's "Saturday Night Live"), Fran Drescher (TV's "The Nanny"), Kathryn Hahn (Bad Moms), Jim Gaffigan (Super Troopers 2) and Mel Brooks (Young Frankenstein).
HOTEL TRANSYLVANIA 3 is directed by three-time Emmy®-winning director Genndy Tartakovsky and written by Genndy Tartakovsky and Michael McCullers. The film is produced by Michelle Murdocca. Hotel Transylvania 3 is presented by Sony Pictures Animation.
Host a Spooktacular Sleepover
The DVD Combo Pack includes all the activities you will need to host a spooktacular sleepover or family movie night!  From snacks to crafts to games and more, follow the steps to create the perfect setting to binge watch all 3 Hotel Transylvania movies.
Bonus Materials Include:
Three All New Scary-Oke Sing Alongs: Sing along to three Hotel Transylvania 3 inspired songs with your favorite characters!

"Dennis Had a Giant Dog" – Sung by Dennis & Winnie
"Monsters Like to Party Down" – Sung by Johnny
"Oh These Wolf Pups" – Sung by Wanda Werewolf

Vampire Make Over: Mavis and Drac Tutorial: Learn how to turn yourself into your favorite Hotel Transylvania 3
Behind the Screams – The Voices of Hotel Transylvania 3: Step behind the "screams" with the returning stars and hilarious new cast to see how these characters are brought to life in the recording booth.
Johnny's Home Movies (Franchise Recap): Johnny brings viewers up to speed on what's happened in the Hotel Transylvania franchise so far.
"I See Love" Monster Dance Party Dance Along: Get up and get moving to this haunting monster mash.
Drac's Zing-tastic Read Along: It's storytime with your favorite characters have a silly tale about Drac's search for a Zing! Read along or sit back and enjoy!
Two Mini Movies (rated G): Two mini-features that will have you howling.
Dracustraws & Drac's Spooky Smoothie Recipe Activity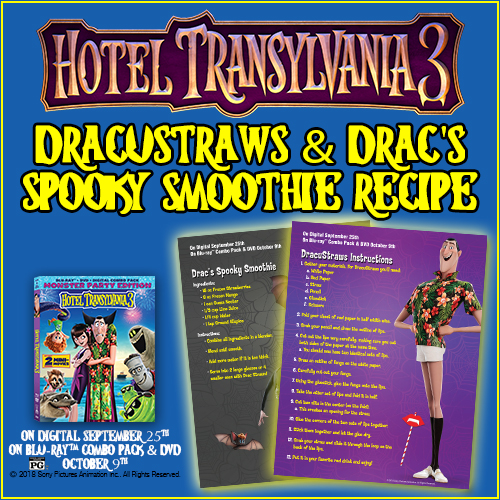 The Hotel Transylvania movie series is such a cute series for kids.  I love the overall message that they have and goodness knows they keep us in stitches for sure!  If you are looking for a movie that will turn family movie night into something they'll remember for years?  Be sure to pick up for your copy or you could win one with our giveaway below.  We are giving away 1 DVD and a Hotel Transylvania 3 pillowcase.  It will be perfect for trick or treating! Giveaway ends October 20, 2018.
ABOUT SONY PICTURES HOME ENTERTAINMENT
Sony Pictures Home Entertainment (SPHE) is a Sony Pictures Entertainment (SPE) company. SPE is a subsidiary of Sony Entertainment Inc., which is a subsidiary of Tokyo-based Sony Corporation. SPE's global operations encompass motion picture production, acquisition, and distribution; television production, acquisition, and distribution; television networks; digital content creation and distribution; operation of studio facilities; and development of new entertainment products, services and technologies. SPE's Motion Picture Group includes film labels Columbia Pictures, Screen Gems, TriStar Pictures, Sony Pictures Animation, and Sony Pictures Classics. For additional information, visit http://www.sonypictures.com/.
ABOUT SONY PICTURES ANIMATION
Sony Pictures Animation produces a variety of animated and family entertainment for audiences around the world, including comedy hit franchises such as The Smurfs, Cloudy with a Chance of Meatballs, and Hotel Transylvania. Next for the division are Genndy Tartakovsky's Hotel Transylvania 3: Summer Vacation, in theaters now; the groundbreaking animated feature Spider-Man: Into the Spider-Verse from the minds of Phil Lord and Christopher Miller in December 2018; the original feature comedy The Mitchells Vs. The Machines in January 2020; and the animated musical Vivo, featuring original songs by Lin-Manuel Miranda, in November 2020. Sony Pictures Animation, which was founded in 2002, is a division of the Sony Pictures Motion Pictures Group.
Social Media Connections
Website: http://www.sonypicturesanimation.com/
Facebook: https://www.facebook.com/SonyPicturesAnimation
Twitter: http://twitter.com/sonyanimation
Tumblr: http://sonyanimation.tumblr.com/